This past Sunday morning was a very good day.  Our time with the folks from Eastern European Ministries was informative, encouraging and faith building.  And the time spent honoring Rex and Marion was eye opening and edifying.  I am certain that I was not the only person in the congregation who was moved to tears at some point during the morning, right Bob?  Here are a few things I was reminded of Sunday.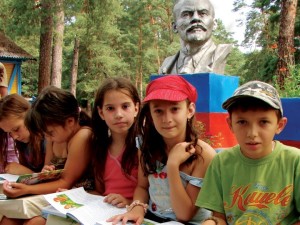 First, God loves reversal and irony!  In the EEM presentation during class, Lanny Tucker showed a slide of some Ukranian children studying the Bible at summer camp with a bust of Lenin right behind them.  What great irony!  Kids at a camp, that was built under communist rule for the purpose of indoctrinating the youth of Ukraine into the communist philosophy, are now studying the Scriptures, literally, right under Lenin's nose. Vladimir would be none too happy about this development!  Who would ever have predicted that reality 50 years ago!
Second, no one stands in faithfulness alone!  We all have received our faith from other people.  Some of these folks we know and we can give thanks for them and to them, most we do not. Our faith has been handed on from generation to generation in the church. We have been blessed by the faithfulness of thousands of people we do not even know. None of those children in Ukraine know Rex and Marion, or any of the seven couples who went to Austria in the early 1960's. But all of them are receiving faith in Jesus because of those missionaries. We are no different. So, we spent some time in our LIFE Group offering prayers of thanks for the people God has put into our lives to bring us to faith.  We ought to thank him for all the faithful brothers and sisters we don not know as well.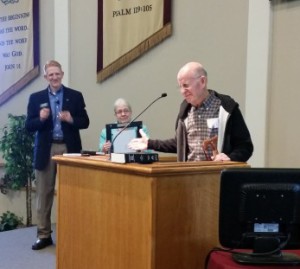 Last, longevity counts! Jesus taught us in the Parable of the Soils that "those who persevere will produce a crop."  Rex and Marion made a commitment to the people of Austria and to long term friendships with them.  They served in Vienna for nine years and after that in Gratz for another ten.  When Rex had his stroke a year and a half ago, I was amazed at the number of calls and cards they received from folks overseas encouraging him.  The Earnharts have faithfully labored with us for almost twenty years now.  We can see their commitment to long term Christian friendships, and the difference God makes in our lives through them. Faith in Jesus and life in his church is a long haul undertaking.  We have to stick with it and stick together!
See you Sunday,  Howard