The first weekend of April we held our Annual Keizer Church of Christ Leadership Retreat at the Kerith Lodge in Pedee, All of our elders, deacons and ministers were "present and accounted for." (Hmm..was it just a coincidence that this event overlapped with April Fool's Day…hmm..?) Anyway, it was a great weekend!
We spent time considering the needs and direction of our congregation and we selected our theme for the next "Church Year," We discussed several of our current ministries and possible future works too. We worshiped together and we prayed for every member of our congregation. And, we ate a lot of delicious food (Thanks Roger!) and had some fun together too.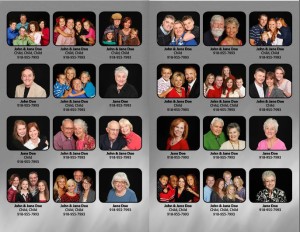 One thing I really enjoyed was looking through a few of our old directories. Darren found a few of these in the office and brought them along for our viewing pleasure. This was fun and a good reminder. I saw photos of several folks we all know who look practically the same, Mike Bough, and some looked very different, Don Boderman used to have hair! There were photos of families who have been members of our congregation since 1988, of folks who have moved away from Keizer, and of faithful brothers and sisters who have "died in the Lord." And there were photos of others who have just given up the faith, or whose marriages and families have been destroyed or who have just wandered away from the truth. These were sad and upsetting.
I was reminded of two important realities. A church's directory is always just snapshot of a congregation's life. People are constantly coming and going, moving in and moving out, choosing faith or unfaithfulness. A church is indeed a living and breathing body.
Oh, by the way, we are in the process of updating our directory right now. Make sure to get your Personal Information Sheet to Julie right away! When it's done it will be interesting to see all the changes in our Body just in the last year.
These old directories also reminded me that it is difficult to be faithful to Jesus and his church for our whole lives. There are so many distractions, temptations and complications that call out to us and pull us away from our loyalty to Jesus and his people. It takes a determination of faith, self-discipline, trust, obedience, reliance on the Spirit and a lot of hard choices and consistent effort to become who God is calling us to be. But, how awesome is a life of faithfulness! This is what really stands the test of time and the troubles of every day.
So, I know I intend to show up in a lot of future church directories! Who knows, maybe I will look even older in those photos! See you Sunday, Hoj